Using Your Corona® Mill to Grind Grains & Beans by Hand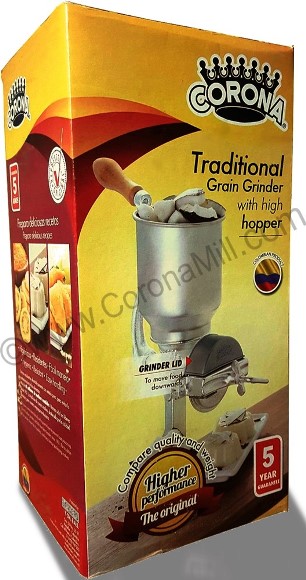 The Corona® Mill is designed to produce medium-fine to coarse (or grist-style) flour from virtually any dry grain or bean and works superbly for this application. It makes wonderful fresh grits and corn meal for baking. While a single grind does not typically produce powder-fine flour appropriate for pastries and light, delicate breads, the flour may be sifted and/or quickly run through the mill a second time for a finer product.
The Corona® Hand Mill is made of high-quality materials and does not need any special maintenance. However, we include some tips for use:
Install your Corona® Mill on a sturdy counter top, work bench, or heavy table. You may wish to place a piece of rubber approximately 1/8" thick beneath the foot of the mill to protect finished surfaces. Do not install the Corona® Mill on delicate surfaces like polished granite, marble, or ceramic tile.
Never wash this machine with water or detergents. It is all steel, so water will cause the mill to rust. After grinding, simply dust the mill off with a cloth or dry brush.
If you plan to leave your Corona® installed on a counter top or work bench between uses, it is a good idea to cover the hopper to prevent foreign objects from dropping into it, which may cause damage not covered by the warranty.
The First Time You Use the Corona® Mill
The grinding plates of the Corona® are formed by casting and contain slight irregularities. These irregularities will create drag as they rub together the first few times the mill is used. Be prepared to put some force into the grinding during this early stage. Soon the grinding plates will be broken in and grinding will be a simpler, quicker task.
The Corona® Mill: Grind Anything!℠
Want to know more? Read about using the Corona®.