Corona® Hand Mill for Grains & Beans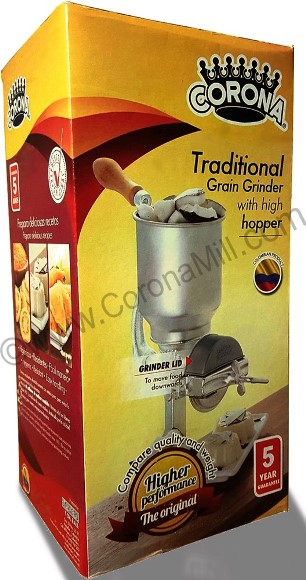 Chefs, bakers, and brewers are raving about the Corona® Mill!
The Corona® Mill is manufactured in Colombia and has been used for years in South American kitchens. This sturdy, dependable grinder is made out of the finest quality cast-iron, guaranteeing a long life. The tin plating prevents rust and makes it a snap to dust off after use. No washing is typically required.
Makes the freshest and healthiest grain products in minutes
Simple & easy operation
Quick and easy clamp-on installation
Self-cleaning—simply dust off after use
Corona® Mill Specifiations
Rugged and high-quality
Cast-iron construction for durability
Tin-plated steel—no aluminum parts!
Durable handle and hopper
No internal plastic parts to break or wear out
Dimensions—6" W × 12" D × 14" H (17" with extended hopper)
Weight—10 pounds
The Corona® Mill: Grind Anything!℠
Want to know more? Read about using the Corona®.