What to Grind?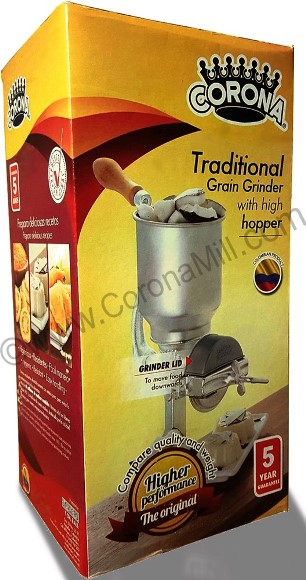 The Corona® Hand Mill easily adjusts to grind virtually any dry grain, bean, or corn. It grinds virtually anything, regardless of size!
Originally designed for Corn and Beans, The Corona® Mill will easily grind most every grain, rice, pea, pasta, seed, or nut. Some users grind wet masa, nixtamalized corn, coconut, and even sprouted items. Remember to clean your Corona® Mill well after grinding wet or oily items. Strangely enough, some use The Corona® Mill to grind certain rocks and minerals. Hence our slogan...
The Corona® Mill: Grind Anything!℠
The texture and coarseness of the flour produced will vary depending upon the grain and the settings. In one grinding, this mill produces a medium-fine to coarse (or grist-style) flour. While a single grind does not produce powder fine flour for pastries and quick breads, the flour may be sifted and/or quickly run through the mill a second time for a finer product. It makes wonderful fresh grits and corn meal for baking. In just one minute The Corona® Mill will coarsely grind 4½ Cups (1½ pounds) of corn or finely grind 3 Cups (1 pound).
Where to Get Beans and Grain
You can purchase whole grains and beans from a whole foods store, co-op, or distributor. Buy only clean grains and beans.
Want to know more? Read about using The Corona® Mill to grind beans & grains...or get some tasty recipes.