Corona® Hand Mill Recipes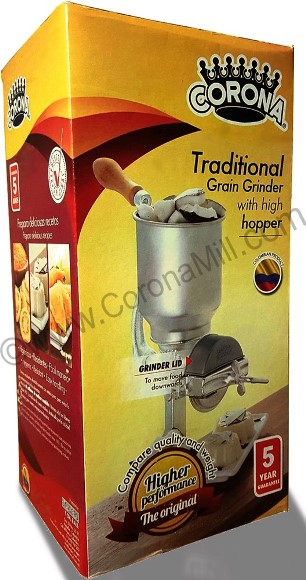 Grind virtually any grain, bean, or corn into an old-fashioned, grist-style flour.
Fresh Grits: Corona® Style
1 cup coarse grits
2-1/2 cups water
1/2 tsp. salt
Yields 3 cups of grits
Combine all ingredients in a saucepan. Bring to a boil, stirring continually. Be careful not to let hot grits splatter on you (keep a lid handy and use hot pads). Reduce heat to medium and continue to stir and cook until granules are plump and soft. Remove from heat and serve, but be careful when because the grits will be hot. Try them without butter at first. You may find you don't even miss it, as all the natural oils are retained, unlike prepackaged grits.
Basic Polenta
2 cups fresh cornmeal
6 cups water, chicken broth, or vegetable broth
2 tsp. salt
Prepare same as grits above.
Polenta is cornmeal boiled into a porridge. You can eat it plain or topped with pasta sauce. Polenta can be baked, fried, or grilled. My grandmother used to pour leftover polenta into an empty can and chill it in the refrigerator overnight. In the morning she would cut the bottom out of the can and press the congealed polenta out. Then she would slice it into patties 3/8" thick and fry them in bacon grease. What a breakfast treat!
Baked Polenta Fries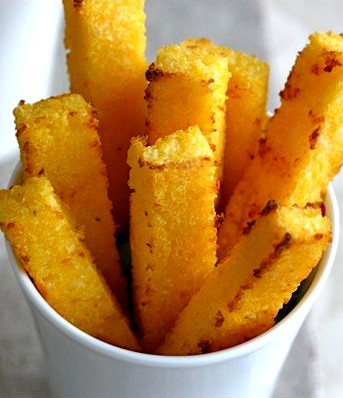 Baked Polenta Fries are a healthy alternative to the fried versions. They are crispy on the outside, soft on the inside and yummy to eat! To make Baked Polenta Fries, simply pour polenta about 1/2 inch deep into a jelly roll pan and chill. Cut fries into desired length, place on a greased baking sheet, and salt to taste. You can also add pepper, Italian seasoning, or even taco seasoning for something south of the border. Bake at 450° for 20 minutes or until golden brown. Remember to flip them over at about 10 minutes, when browned on top. Polenta croutons are a great variation of this recipe and only take a few minutes longer.
Polenta Cookies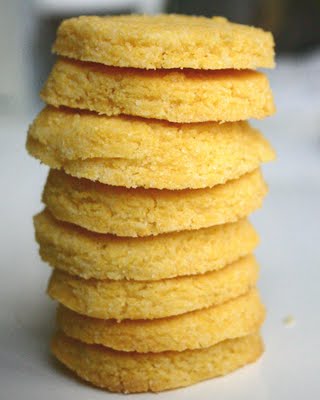 1 cup plain polenta
1 cup flour
1 tsp. baking powder
1 egg
2/3 cup sugar
1/2 tsp. salt
1/4 cup soft butter
1/2 tsp. vanilla
Combine egg, sugar, salt, butter, and vanilla. Add polenta, flour, and baking powder. Knead until smooth and uniform. Chill dough in refrigerator for 30 minutes. Preheat oven to 350°. Roll out between waxed paper. Cut out with cookie punch or small glass. Bake for 10 minutes. For a variation, try adding chopped dates, raisins, or other dried fruit or substituting lemon, anise, or almond extract for vanilla.
Other Ideas for Your Corona®
Try your hand at making fresh cornbread, old-fashioned cracked grain breads, Dakota bread, masa harina and tamale. Most of all, have fun and enjoy.
Learn More About the Corona® Hand Mill
Want to know more? Read about using the Corona® to grind beans & grains.